Most Reliable Honda Models for Camping this Summer
Published: 06-05-2023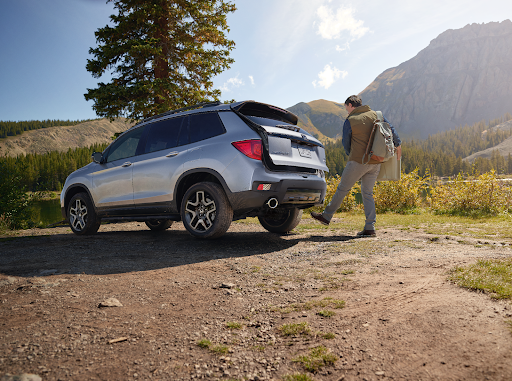 When it comes to planning a camping trip in Missouri, there are plenty of factors to consider. Before hitting the road, it's important to have a reliable vehicle to get you there and to ensure a worry-free trip.
Honda, known for its reliability and durability, offers several crossover, SUV, and truck models well-suited for camping excursions all over Missouri.
The Honda CR-V is an SUV that balances versatility and reliability. With a spacious interior, ample cargo space, and available all-wheel drive, the CR-V is a great option for loading up camping gear, hauling outdoor equipment, and more. Its performance, fuel efficiency, and Honda-standard advanced safety features make it a great choice for long-distance trips to your favorite camping destinations.
The Honda Passport is a good option for those planning a more rugged camping experience. As a midsize SUV, the Passport offers off-road capability, ground clearance, and high-quality performance. With a roomy interior, versatile cargo space, and towing capacity, the Passport allows you to bring along all camping essentials and have room to spare. Its available all-wheel drive ensures confident handling on any terrain.
If you prefer a pickup truck for your camping needs, the Honda Ridgeline is a great choice. The Ridgeline offers a spacious crew cab and a lockable in-bed trunk. The pickup can comfortably fit camping gear, bikes, kayaks, and other outdoor equipment both inside and out. With its dependable performance and available all-wheel drive, the Ridgeline is well-equipped for towing trailers into the great outdoors.
For families or simply for those with a lot of camping equipment, the Honda Pilot is a reliable and spacious option. The midsize SUV boasts three rows of seating, offering ample room for both passengers and cargo. Its exceptional performance, smooth ride, and advanced safety features make it a great choice for long-distance travel to remote campsites.
Visit Mid Missouri Honda Dealers to Learn More
When it comes to camping, Honda offers a range of reliable models to suit different needs and preferences. Whatever model you choose, you can count on Honda's reputation for reliability and dependability.
Stop into your local Mid Missouri Honda Dealers to learn more about Honda's offerings and get ready to pack your gear, load up your new Honda, and embark on your next camping adventure with confidence.